Following the roadmap to your secure cloud transformation journey
As a CIO or CTO, you know that cloud transformation can be the means to business resilience, scalability, agility, continuity and meeting the needs of a global workforce. But achieving those real-world benefits still hinges on the details of your cloud transformation strategy and the roadmap you follow. This begs the question of what exactly is cloud transformation?
What is cloud transformation?
Like others, you've built the foundation of your enterprise's operations on the interaction of people, processes, and technology working with its applications, data and storage. Moving those applications and workloads to the cloud changes the way people, processes and technology interact. This is what makes up cloud transformation.
To successfully change that interaction requires knowing which workloads and applications to move, their dependencies on other apps, workloads and systems and the level of data security (at rest and in transit) they require. But starting that successful transformation requires an understanding that cloud transformation is not a destination, but a journey plotted via a strategy and roadmap.
Building a cloud transformation strategy
Cloud transformation represents the continuity, resilience and agility that your business needs to adapt and thrive in the digital era of a post-pandemic business landscape. We've seen that agility often hinges on the nature of a hybrid cloud strategy. Nearly 77% of respondents say that improving business agility is crucial to being able to respond to changes over the next 12 months, according to our 2021 Hybrid Cloud Report. You'll build your cloud transformation strategy on a journey of reaching specific goals through applications and workload migration to the cloud that will include:
Specific cost and operational advantages garnered with the shift away from a capex model with on-premises server/hardware and data center footprint costs (space, cooling, security maintenance) to an opex model of public cloud computing and Software-as-a-Service model licensing cost advantages.
Operational advantages, such as application, workload, storage, and compute scalability, application services expansion, and improved regional and global remote end-user access.
Security advantages via hybrid cloud for secure data placement on-premises and public/private cloud with integrated workload access and management, identity access management (IAM) to applications and workloads along with business continuity and disaster recovery frameworks.
Achieving these goals by building a strategy and starting the cloud transformation journey requires significant partnership across the enterprise. These include IT operations, security, applications/development and business operations. They must all work together to fulfill the four stages of ongoing cloud transformation via migration, which includes:
Planning and design
Delivery and migration
Management
Optimization
Our understanding of cloud transformation as a journey comes from the reality that few enterprises will take a 'big bang' approach of migrating all targeted applications to the cloud at once. That's why the successful first steps of cloud transformation hinge on a 360-degree view of your current IT infrastructure, applications, workloads, storage and their dependencies.
Reviewing the current environment
Your transformation objectives will drive your choice of applications and workloads for migration along with the manner and time frame. These objectives are a combination of cost savings, scalability, access, security and business agility in the broadest sense. This is a process that goes hand in hand with determining an understanding of your current IT and operational technology (OT) environment to determine:
Which applications, workloads, storage and their application dependencies bring the biggest bang through migration?
Which of these should you move when, how and where?
Network performance, latency issues/concerns, connectivity and traffic flows
The answer to these questions hinges on whether you have the internal IT team expertise and availability to design and implement the transformation and migration strategy. You will determine these answers by how the cloud affects your users.
Assessing cloud transformation IT skillsets
People are at the heart of everything with cloud transformation. On the one hand, you have to consider the skills and time of your IT team in handling the cloud migration. That means asking two important questions:
Do I have the skilled personnel with the expertise in cloud migration and the major cloud providers that can handle all aspects of the migration?
Do I have enough of these resources to ensure the migration and other important IT projects get done without compromising quality, costs, and efficiency?
It's nearly impossible for even the largest enterprises and IT organizations to answer yes to both questions. Getting those answers requires a deep understanding of your environment from the infrastructure (IT/OT) to their interaction with people and processes.
Understand your user environment
Then there's understanding the impact of how cloud transformation will change the way your business operates and how people do their jobs. You can lose the cost savings and operational flexibility gained from moving applications from an on-premises data center to the cloud if you don't make sure you deliver a quality user experience. Even the 'lift and shift' approach to application migration can cause end-user challenges.
Your users will face everything from fresh approaches to access and use with Software-as-a-Service apps in the cloud to usage and IAM changes across all migrated enterprise apps. These usage and access aspects of a cloud transformation are directly tied to the complexities of data/cloud security and the regulatory compliance demands that often drive them. They all require that users understand:
The nature and timetable of the changes
How these changes affect how they complete their work tasks
What these changes will do to enhance their efficiency and effectiveness in completing daily tasks
The goal is to make sure that your users understand and embrace what's in it for them and how it will affect and improve their interaction with business applications. So, change management is extremely important when developing a cloud transformation strategy.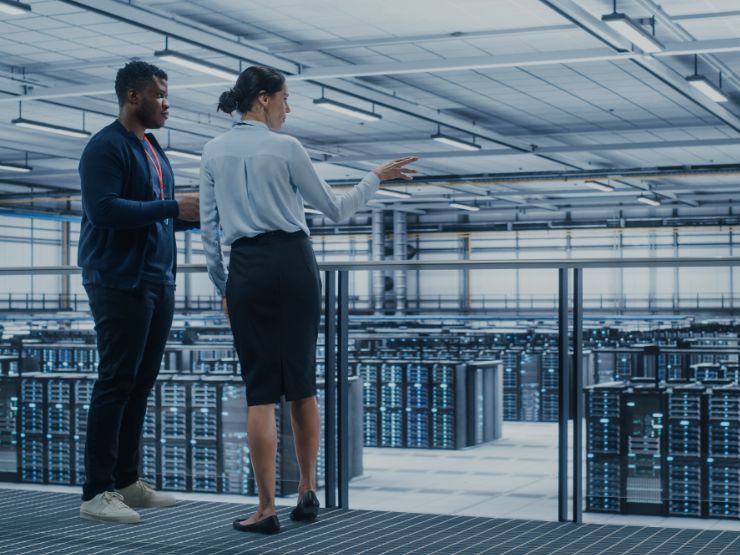 Security and regulatory considerations
Having a plan for preparing your end users for these changes is a key part of cloud transformation success in the short term and in the long term. They're tightly bound to the security and regulatory aspects of the cloud transformation where you must determine:
Regulatory compliance needs
Identity access management (IAM) needs
Data security needs for data in transit and at rest
Your successful cloud transformation journey hinges on a detailed analysis of sensitive data, where it's stored today and tomorrow for the greatest business benefit in the future. This becomes the foundation for your security program that will guide the transformation across:
Hybrid cloud architectures that are a mix of public and private cloud
Multicloud architectures for ideal workload placement across different cloud providers
Regulatory compliance is a vital aspect of data security where your enterprise is dealing with sensitive, proprietary or personally identifiable information (PII) data. Just some of the vital regulatory acts that require compliance oversight for on-premises and cloud data include:
General Data Protection Regulation (GDPR)
Health Insurance Portability and Accountability Act (HIPAA)
Health Information Technology for Economic and Clinical Health (HITECH)
Payment Card Industry Data Security Standard (PCI DSS)
Sarbanes Oxley (SOX)
California Consumer Privacy Act (CCPA)
Service Organization Control (SOC), 1, 2 and 3
Security of data in transit and at rest is a top concern for the cloud transformation journey. A majority (61.6%) of organizations say security and compliance are critical to their hybrid cloud plans and vendor selection, according to our 2021 Hybrid Cloud Report.
All the aspects of the transformation strategy we've covered so far are about early-stage planning. These strategy points will now help you create the roadmap you'll follow. The cloud transformation roadmap deals with everything from detailed design to choosing the right cloud provider, security hardening and implementation/migration.
Developing the cloud transformation roadmap
You'll hear us say this repeatedly: cloud transformation is not a destination, it's a journey. Although you'll have milestone destinations throughout the journey, those milestones will also change as your business and the market changes. To keep track of these changing milestones in a journey that keeps moving you forward requires having a cloud transformation roadmap.
This is where you take the strategy points you've gathered so far and make determinations about which cloud provider(s) and cloud models (hybrid, multicloud) are best suited for plotting that roadmap. The applications, workloads, and storage you move to the cloud will be based on your understanding of what each major cloud provider offers. You can then match that to your varied transformation needs.
Choosing cloud providers and architectures
The transition to public clouds such as Microsoft Azure, Amazon Web Services (AWS), Google Cloud, or Oracle Cloud is easier than ever. You understand that these providers can deliver broad cloud options and frameworks and platforms for migrating applications workloads and storage.
This is primarily taking advantage of public clouds for 'lift and shift' of applications and rearchitecting of proprietary/legacy applications and workloads. For most enterprises, the choice of cloud provider will center on their ability to support enterprise application migration from on-premises to the cloud. It's all about how they make that task easy, efficient, cost effective, agile and fast.
While public cloud has become an accelerator of businesses worldwide, not all applications are suitable for a public cloud infrastructure. This is where hybrid cloud architectures (public and private cloud mix) come into play. Legacy and homegrown enterprise applications are often more challenging aspects of a cloud transformation and migration.
Enterprise apps are often legacy applications with sprawling application dependencies to other apps, workloads, data and storage. IT skills/personnel, data lineage, code optimization, storage and data sprawl, and a host of other aspects impact how the migration will affect the business in real time.
Enterprise application migration roadmap
While all four major cloud providers offer Infrastructure-as-a-Service (IaaS), Software-as-a-Service (SaaS), Platform-as-a-Service (PaaS) and Data-as-a-Service (DaaS) solutions, and pay as you go pricing, each approach is different. All four are certainly contenders and may simultaneously play a part in your cloud transformation strategy and roadmap (multicloud, hybrid cloud). As discussed, cost reductions, access, security, scalability and other factors may be part of your strategy.
These needs may influence your choices based on the use of hybrid cloud and multicloud architectures where different providers offer the best approach for different applications and workloads. Your cloud transformation is likely focused on migration of on-premises business enterprise applications that include:
Enterprise performance management (EPM)
Enterprise resource planning (ERP)
Customer relationship management (CRM)
Financial management
Human capital management
Supply chain management
Transportation management
An on-premises version of EPM software becomes more complex over time. Migrating to a SaaS, PaaS or IaaS model can mean different things with different leading cloud and application vendor solution providers. Among those you're most likely to include in your cloud transformation include EPM, ERP, HRM, CRM, ITSM and a host of productivity and collaboration tools from leading providers that include among others:
SAP
Oracle (Oracle E-Business Suite, Peoplesoft, Hyperion, JD Edwards)
QAD
Microsoft 365
Microsoft SharePoint
Microsoft Exchange
All four major cloud providers offer SaaS, IaaS or PaaS migration approaches for these and many other enterprise applications. Each offers extensive support in migration planning whether it's 'lift and shift', refactoring or cloud native application architecture. But many thought leaders often cite Oracle cloud as providing a greater level of integration since they provide branded SaaS solutions for Oracle E-Business Suite, PeopleSoft, JD Edwards, ERP and Hyperion cloud transformation. The same is said of Microsoft Azure with its integration of Microsoft 365 and their many Microsoft collaboration tools.
You have to know that the choices you make for cloud migration bring tangible advantages focused on your business's mission. That translates to greater flexibility that balances costs reductions with operational/service flexibility and improved security that reduces security liability. These choices are the nexus point where cloud provider, architecture and workload placement choices intersect with security, user experience needs and IT organization expertise/workloads. Together, they drive your transformation journey and its roadmap.
Creating a transformation strategy and roadmap that balances all these moving parts in a way that ensures business ROI success in the cloud is what you're presenting to stakeholders. Don't be afraid to reach out to a cloud transformation partner that specializes in aligning business and technology requirements through to planning, design and implementation. This can be the key to making sure you build the strategy and the roadmap that you can follow to a successful cloud transformation.
Successful cloud transformation with an MSP partner
Cloud transformation is an exciting journey for your business that moves you towards a more competitive, cost effective and agile business model. It requires you to see the road with a clear eye and agile strategy to make adjustments as business needs (people, processes, technology) and the overall landscape changes over time.
You may find it's much easier to ensure success with a partner that's taken many other businesses on their own individual transformation journeys before. By choosing the right managed services provider (MSP) as a partner to support your cloud transformation journey, you get someone with:
Knowledge in your industry
Significant experience transforming workloads to run in public, hybrid and multicloud environments and architectures (IaaS, SaaS and PaaS along with Kubernetes, containerization and microservices)
Consistent investment in deepening expertise of the intricacies of all major cloud providers and their strengths that can also deliver managed application services support
A track record of successful enterprise application migrations across major solution providers and your specific industry
Deep experience in change management to support end-user preparation and transition to the cloud
The ability to quickly assess your current IT and OT environment.
Clear data, application, workload and storage mapping expertise
Assessment experience to target prime applications for cloud migration and evaluate hardware and software life cycles (lifecycle ending for on prem apps where costs, management, monitoring and security/access can be improved; which apps will run in a virtual environment; server performance data workload usage, apps with annual maintenance fees that can benefit from SaaS)
Experience planning, implementing, and configuring IAM, Identity Governance Administration (IGA) and Privileged Access Management (PAM) tools, rules and protocols across the enterprise
The experience to provide a detailed SOC2 audit by a well-known auditor
Closely aligned with a managed security services provider to identify what and where your sensitive data lies, and use industry standards to protect it with server hardening, encryption, MFA, high availability, etc.
Experience performing security due diligence for data in the cloud and how to augment the shared security model for application and workload hardening
Clear partner relationships for performing quarterly penetration testing
The ability to coordinate security monitoring, management and reporting suggestion implementation
The ability to implement monitoring as part of a solid DevOps program where security and complete environment configuration management reviews are baked into the release management process
Expertise in hardening your security standards with additional security features at the application layer to meet cloud migration needs beyond cloud provider shared security responsibility model.
The right MSP can bring the tools, experience and trusted partners to make sure they embed security in the business and the cloud transformation strategy from end to end. This goes hand in hand with understanding how people can bypass processes in ways that lead to negligence or lack of understanding of their actions on data security.
Conclusion
The cloud transformation journey is all about the focus on tangible ways to make the business more agile, competitive, cost effective, innovative and service-oriented. That requires careful planning, management and execution with the right applications, tools and partner. The right partner can bring more than the assessment, analysis and migration process to bear.
Because each cloud transformation is unique, it's vital to have a provider that brings the partnerships, experience and expertise to understand your specific business, what to use, when and how to use it to achieve your specific goals. That means taking the time to understand your organizational culture, scope, people and goals.