Keeping your employees connected during COVID-19
Organizations across the globe are dealing with unprecedented operational challenges, with almost every industry, sector and business affected and tested in new ways. As the threat of COVID-19 persists, every day, we are working to ensure we do everything we can to support our employees through these challenging times.
Leaders are navigating their people through new ways of working. In the setting of looking out for each other, I want to share some best practices and learnings from what we're doing, and I hope these insights are useful.
Ensuring our employees are safe, healthy and productive
As soon as COVID-19 was on our radar, as a first step, NTT Ltd. moved to keep our teams healthy, safe and productive by enabling remote working. We have employees in over 73 countries around the world, and we acted quickly to align with government advice by moving those who can, to work from home. This means having the right tools in places for our teams to work remotely.
Creating a learning path around working from home is a critical way to help employees adapt to new working conditions. As part of this program, we're sharing tools and guides on etiquette for working from home, advice on what collaboration tools are best suited for meetings and messaging, how to securely connect, and where to get technical support.
Social distancing is a big change for many of us, and the sudden shift from working in an office to working from your dining table or study means we must work even harder to stay connected. This can require a mental shift and changes in behaviour.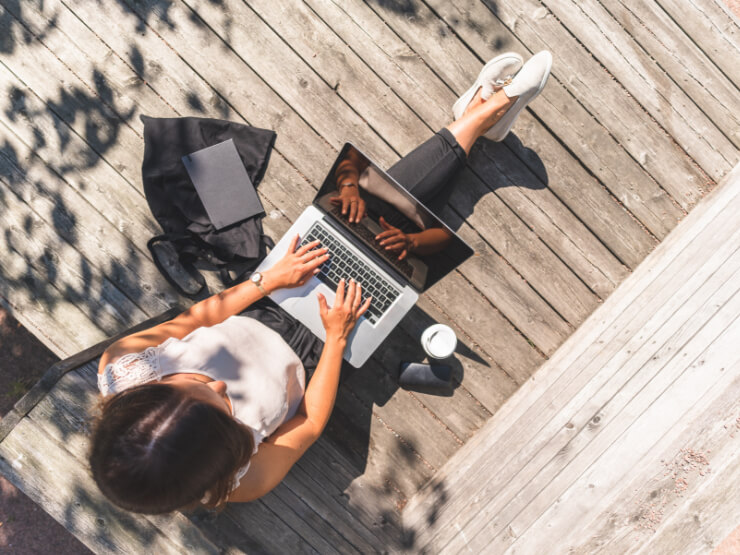 Take care of your mental health during this time of change
Helping teams stay motivated and productive is essential. Often there's no scheduled downtime during the day, making it harder to switch off and step away from tasks. We're supporting the mental health and well-being of our employees through practical suggestions on how to maintain a routine, take care of each other, better communicate, normalize working environments and prioritize self-care.
Supporting leaders to manage remotely
Managers find themselves leading remote teams and facing different challenges than a month ago. Creating a learning path specifically for leaders is critical for maintaining team productivity, efficiency and communication. Our resources and guides outline how to provide opportunities for remote daily check-ins, build stronger online connections, and connect beyond our professional lives – giving room for more social catch-ups, wherever possible.
As a way to further support management, we accelerated the launch of our online Leadership Network intending to galvanize leaders and reassure them of our support systems, and reinforce the stability of our business.
There are some inherent challenges in working from home and managers need to remain open and flexible. Productivity may not be the same as it was when everyone worked from the office. We're helping our managers understand that employees may now be sharing a working space with a busy household and accept that family is now part of the team.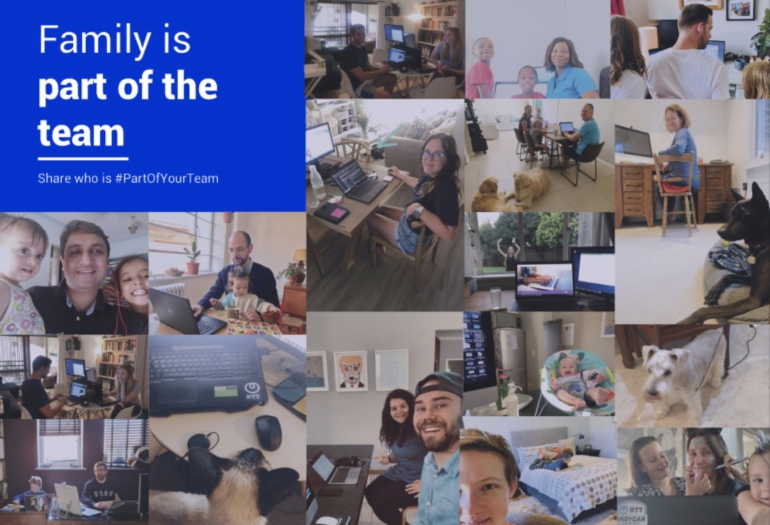 With the support of managers, employees sharing a space in a busy household can accept that family is part of the team
Encouraging extended learning
While we should always prioritize the health and well-being of our family and friends, for those of us who are feeling well and have extra time on their hands, we're encouraging and facilitating extended learning.
Dedicating time to learning a new skill means at the end of this event, some of us will have unique skills to share. Many of NTT Ltd. learning programs will be launched through NTT Live and feature certification channels, as well as yoga and educational activities for kids.
We strongly believe that we're the best when we work together. To us, this means protecting and enabling our people to be the best they can be during this challenging time. We continue to closely monitor and act upon guidance from the World Health Organization and public health officials.
Keep your eyes on our website for more COVID-19 related guidance and information.