Looking to run a virtual event? If so, do consider specialist production support, as it's the ultimate way to secure the best experience you can for your audience. Of course, it's not just for their sake though. It's for yours too.
A smooth end-to-end user journey means fewer headaches and less stress, and reduces risks of anything going wrong. You don't want to be a hostage to fortune, yet set-up can soak up your hours when you can least afford it. And things can go wrong on the day too – and that's no time to be troubleshooting. When you're supposed to be live, you don't want to be wondering why your live 'stream' is only a trickle.
Specialist production for your virtual events
Our specialist production service runs thousands of online events every year – including hundreds of full-scale virtual ones. Not surprisingly, we've amassed considerable expertise. As your production partner our role is to smooth all pre-production concerns, save you time and energy, and ensure flawless technical delivery.
Where we can begin to help is with structuring the schedule. You may already have things mapped out, or just be in the early stages, but it pays to plan carefully. With some larger virtual events. you might find it better suited to your audience to run the program over, say, four days not two. It can make what would otherwise be long on-screen days less demanding for attendees.
Whether your event is internally focused – like a Sales Kick-Off or company conference – or externally-focused, our goal is to help it be the best it possibly can. We discuss with you what you're trying to achieve, and the experience you're trying to create.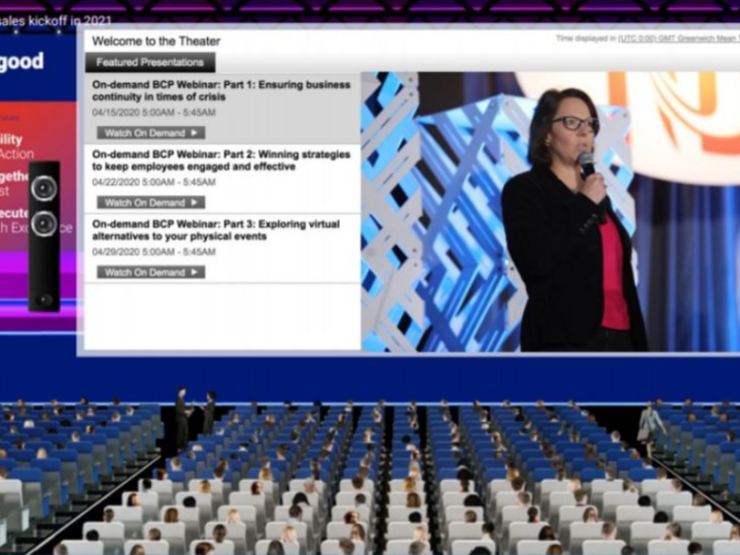 We'll help you deliver a flawless virtual event
Helping you increase engagement and involvement
Engagement is always a priority, so we explore the options to help you involve your attendees, hold their attention and be part of the proceedings. From different types of gamification, moderated Q&As, polling, quizzes and more, we have lots of ways we can help you build engagement, create lean-in moments, increase involvement and enjoyment.
You should also consider sessions that offer a different dynamic for attendees – adding in social elements can work fantastically well. After all, it's what happens at in-person events and it allows your guests to mingle, catch-up, and network, either informally or in more structured ways. Virtual lounges – designed and styled as you wish – let people hang out with their colleagues and unwind. Theme-led rooms can allow focus on any number of relevant or even irreverent topics. We've helped clients run brilliant brainstorms, competitions, quizzes, even cooking demonstrations, drinks tastings, live music, karaoke sessions and more. There's no end to the ways you can keep your audience involved.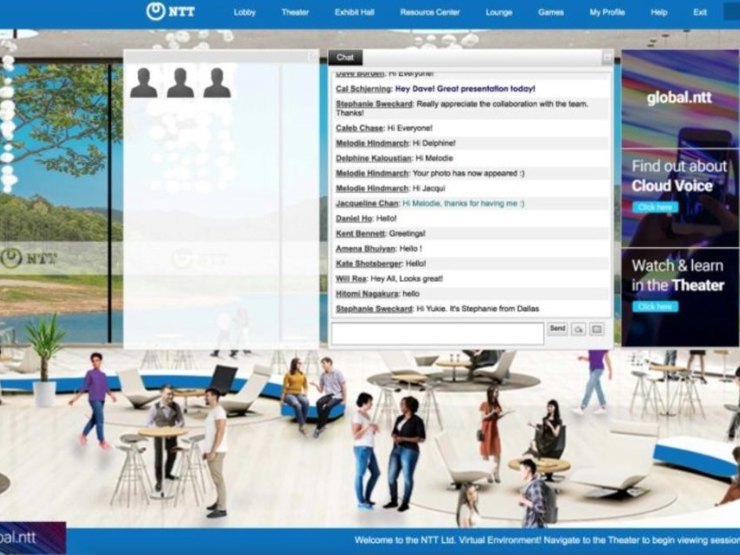 Tailor your social and break-out sessions to suit your needs
A unique and customizable service
At the core of our virtual events is the market leading platform, Intrado Studio. What makes it special is the level of customization. Not only will your event be unique, but it will offer the best-of-breed experience for your audience. As platform experts, we have the know-how to deliver design, custom builds and coding as needed.
A unique and customized experience is wonderful but can demand different levels of budget. To cater for this, we offer a base cost for each event which includes up to 75 hours of project management time and hands-on support. This allows us to provide a full wraparound offering, a true specialist production service for your virtual event. Where there are very complex projects, we'll provide bespoke design and customization packages as needed.
The end goal is a smooth look and feel and user journey, not just during the event but from registration onwards. It's the first point of contact after all. Our events can cater for up to 200,000 attendees, and whether you're planning for thousands of employees or an equally large external customer base, you can rely on a seamless user experience. We can also support you with payment integrations if you're looking to monetize your virtual event, as well as marketing automation platforms to attract an external audience.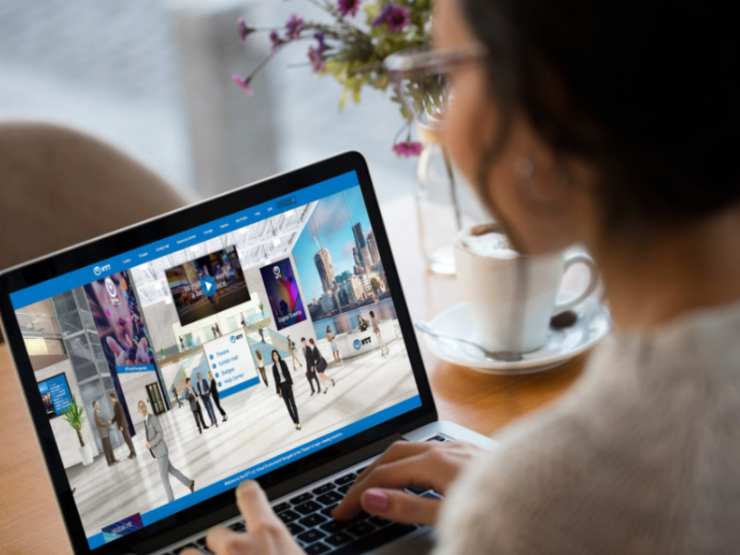 Our production support will ensure a seamless user experience
The value of high-production values
Unsurprisingly, we also take great care to ensure that what is seen and heard during your event is technically as good as possible. We run checks and tests with each presenter involved in a virtual event. We look at connection type and speed, microphones or headsets being used, where and how cameras are positioned and lighting, suggesting necessary recommendations and fixes. In some cases, we've arranged for specialist kit to be delivered to speakers and arranged local COVID-safe studios from which presenters can broadcast.  
Rest assured, from the time we begin working with you, you'll also always have a project manager working across your event, backed by our full team of experts. And, when your event is live, if you have multiple or simultaneous sessions taking place, you'll have producers assigned to each. We also provide a dedicated live help service, meaning that any user questions – perhaps about accessing assets, or audio or video issues – can be dealt with fast. Whether it's one, three or perhaps ten people, we scale the live support to match the size of your event. What's more, as a global organization we offer multiple language support across all time zones, around the clock.  
Supporting you before, during and post-event too
Our support doesn't end once the final session ends, and the last guest leaves the virtual venue. By now you'll have created lots of valuable content in the form of presentations and videos, perhaps expert Q&As, and shared knowledge sessions. We ensure that all the content can be accessed in future too, either as broadcast, or in edited form, on the platform or for use elsewhere as you wish.

You'll also be able to review highly useful data on your event: which sessions were attended, who watched live and/or on-demand, where engagement was highest or dropped off, view times and so on. It's all highly helpful intelligence whether your audience are employees, partners, existing customers or potential clients. What's more, it's helping in planning for future events too.  
Specialist production means a safe pair of hands
We describe our specialist production support as a 'white glove' service. And it really is that – we're your safe pair of hands. You absolutely can't afford to have an event where people have login problems, or a presenter not appearing where they should do. Or, to be panicking yourself because the live stream isn't running.
Just like in-person events – things may not quite go to plan. It could be one user with an issue, or something that causes total event failure. As a provider of thousands of digital events every year, we have the knowledge, expertise and resources to keep things running smoothly.   
A 'show-stopping' keynote is one thing. A technical problem that stops the show is quite another.
Do get in touch if you'd like to discuss how our specialist production service can support your next virtual event.