As businesses look to IT transformation it's important to create a foundation so you can deliver against the ultimate outcome you're looking to achieve, while ensuring you put your people at the heart of the organisation to attract employees back into the office.
We sat down with key clients recently to discuss topics such as the impact of the pandemic on the IT industry and key insights into how organisations can attract employees back to the office, below are our findings.
Establishing a strong foundation
Every project must start with a solid foundation to build upon; one that can withstand multiple additions, changes and challenges. Recently, Device Technologies, an Australasian medical device supplier made some key upgrades to their data centre infrastructure as it looked to move away from the three-tier structure currently in place. A structure the team believed to be at the end of capacity in terms of what they needed it to do for them.
In a process called "match fit", the Device Technologies IT team defined their needs and where to invest. They concluded that on-premises was their best solution, as it provided a good opportunity for them to get ready to move to a more cloud-based solution as the organisation matured. Being in the medical industry, being cloud-based is essential.
While the healthcare industry as a whole has been historically slow to adapt to digital technology for various reasons, an on-prem infrastructure allows for a quicker journey to the cloud and the pandemic has forced some of that transformation in a positive way.
Throughout the process Device Technologies has seen a massive improvement since implementing the new infrastructure to deliver better service to their customers overall.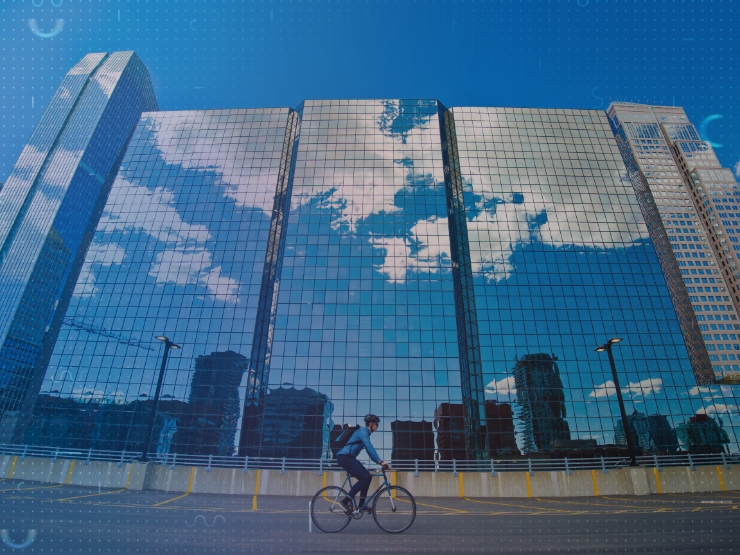 Similarly, for client ASHRAE, their new Smart Building in Atlanta was built using NTT's global partner Cisco as a foundation — a network considered to be the backbone of the building and connects all the systems within it. This includes everything from the building automation system and room booking system, to lighting control, sub-metering, and the photovoltaic system. Click here to read about the solution in full.
By creating an intelligent workplace ASHRAE has ensured that their new headquarters can respond to the changing needs of the organisation now and in the future. Putting people at the heart of the organisation.
While the foundation of IT systems is important, even more so is the way employees and customers
interact with it. No longer is it enough to take a "set it and forget it" approach. It's imperative for teams to ensure the system is at its optimal working standard, and users are getting the best possible experience.
The ASHRAE smart building is the perfect example of taking a mainframe system and using all facets of it to cater to those in the building. The team has online access to what's going on in the building, looking at how effectively it's being operated and how 'smart' the building is. An extensive dashboard provides an opportunity to look at the building operations, the mechanical electrical system, and the indoor environmental measurements, to determine whether any adjustments need to be made based on where people are in the building and how many people there are. Not only will this help with better employee experience as they interact with the building and its features, but as more people start transitioning back into the office this will allow for a holistic view of the building and enable better resource management.
So, what next?
There needs to be a 360-degree approach to IT transformation – from having a strong foundation that allows you to build and expand, to ensuring technology is accessible for your employees and clients. As we look to develop these future technologies, organisations need to understand what is important to the business as well as implementing the right IT foundation to support that business growth.