NTT and Red Bull Basement: enabling innovation through technology
We're continuing our journey as the Official Technology Services Partner of Red Bull Basement – a worldwide hackathon that empowers university students to innovate with purpose to create positive change.
We started working with Red Bull Basement back in 2020, and it's been quite a ride!
I've always maintained that we don't understand the limits of our comfort zone until something or someone comes along and asks us to go beyond business as usual and change quickly. And in the time we've been working with Red Bull Basement, we've been unexpectedly challenged on numerous occasions.
A digital imperative
In 2020, we had to pivot to accommodate the unforeseen limitations on getting together with our student participants in physical spaces that were presented by the pandemic.
Of course, we're no stranger to blending physical and digital interactions, but we needed to be mindful of the demographics of our participants. What students consider an engaging and fun digital experience is vastly different from what a senior executive in one of our client organizations would!
But, as a business that's not shy to step up to a challenge, we found a way to not only proceed with our digital event but actually make it even more interactive and engaging. We worked with our Cloud Communications division, which has the platforms and expertise to establish the foundation we needed. The outcome was interactive hybrid events that surprised and delighted all involved.
How embracing a challenge can spark opportunities
Everyone on the team learned a great deal in the process of breaking down the barriers between virtual and physical events to enable Red Bull Basement 2020. Hosting the program online actually worked out better than we'd ever imagined, as it provided the opportunity for even more participation by young entrepreneurs from all over the world. It made it easier for people to get involved.
That's what smart innovation is all about – seeing opportunities where others might only see hurdles and setbacks. Seizing on a problem and creating something more valuable and impactful than what would have been created should the problem have never arisen in the first place.
Students in 46 countries around the world responded to the 2021 edition of the Red Bull Basement challenge to critically evaluate everyday challenges and use technology to build and scale possible solutions. Each project focuses on addressing current issues in one of our eight key categories: accessibility, body and mind, careers, clean water, climate action, education, empowerment, energy and smart cities.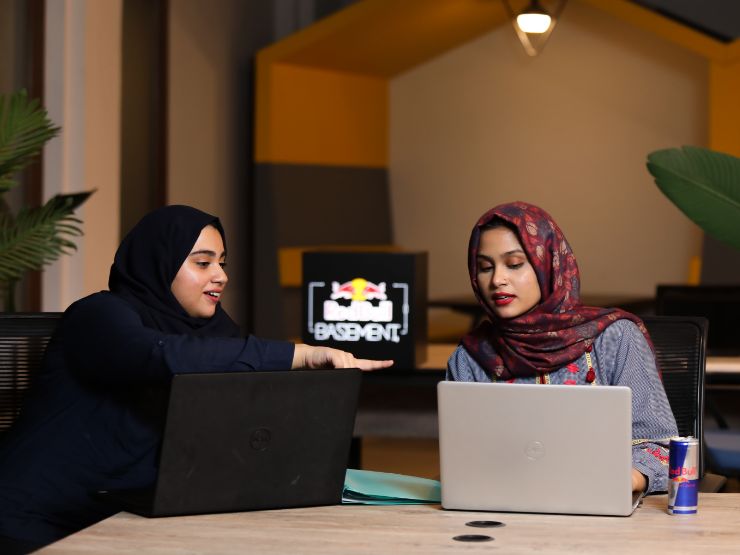 Raising the bar
Having set the bar high in 2020, over the last few months, we've been pulling out all the stops to ensure the upcoming 2021 Global Final event in Istanbul – when a team of experts and mentors listen to the final pitches and choose a global winner – doesn't disappoint.

We'll enhance the Global Final by transporting students into the metaverse using VR/AR technologies so all attendees can collaborate and brainstorm in a dynamic virtual environment. But let's not forget who the real stars of the show will be – our global student innovators. In the last two years, they've continued to amaze us by coming up with ingenious ideas.
In 2020, the program's winning idea, Lava Aqua X, now known as Lylo, designed a portable washing machine that uses filtered shower water to wash clothes, helping students wash their laundry more efficiently and sustainably. A cheaper, quicker and more environmentally friendly machine that is compact enough for student accommodations but also opens the door to make an impact in other communities.
In 2021, our global NTT employee base voted to back E-Trash as our NTT Wildcard team. This innovative technology solution focused on recognizing and sorting waste material more effectively using a capacitive, inductive and humidity sensor to automatically divide trash into the relevant recycling compartment. Simply brilliant.
Over the last few months, our global network of mentors and technical subject matter experts has been hard at work with our student entrepreneurs, helping them think of their ideas differently and refine their pitch for the upcoming Global Final.
As one of the NTT global student mentors for the program, I have yet again been bowled over by the levels of creativity and commitment displayed by this year's participants and have enjoyed the opportunity to help guide but also learn from the teams. The judging panel will certainly have a tough time selecting an overall winner.
Stay tuned
For me, it's exciting and immensely rewarding to see such fantastic young entrepreneurial spirit being directed towards driving positive change.
And watch this space – once the program's 2021 Global Winner is announced, we'll be the first to share the news!
Find out more about Red Bull Basement here.