Sustainability – often referred to as Environmental, Social and Governance ESG – is an area that no responsible private or public sector organization can ignore.
In recent years, world leaders have been calling on big-city corporations and government entities to lend their weight to efforts to decelerate, halt and, ultimately, reverse the devastating impact of climate change.
Just consider these statistics from the Global Enabling Sustainability Initiative: iCities occupy just 3% of the Earth's land, yet they account for 60–80% of global energy consumption and 75% of global carbon emissions.1
It's projected that 70% of the world's population will be living in cities by 2050.
At the same time, many large cities face ongoing challenges relating to health and wellness, such as inadequate sanitation and waste management. Other issues include poverty, lack of access to quality education and diversity and inclusion challenges.
But the good news is that, as we begin to come to terms with the effects of the pandemic, there's renewed awareness, interest and action from city leaders to play their part in tackling the sustainability crisis by leveraging digital technology advancements. Recent research undertaken by NTT reveals that:
Two-thirds of city leaders say smart city programs and digital transformation are crucial for the future of their city.
62% of cities have developed a digital platform that enables citizens to address multiple needs through one personalized interface.
58% of cities are using digital channels to foster citizen engagement and automate government processes and workflows.
78% are automating government processes and workflows.
Heeding calls by the United Nations (UN) for immediate and decisive action on climate change, the world's leading smart and sustainable cities are making considerable progress against the UN's 17 sustainable development goals (SDGs). These cities are classified as Cities 4.0. Download our infographic to learn how they're doing it.
As part of their efforts to use technology to accelerate their progress on the ESG front, our research reveals that city leaders' current top priority is better supporting hybrid working arrangements by establishing business-grade internet connections, such as private 5G.
But before we delve into the sustainability gains that Private 5G promises to unlock, let's take a moment to understand what 5G and Private 5G are and why they're attracting so much interest.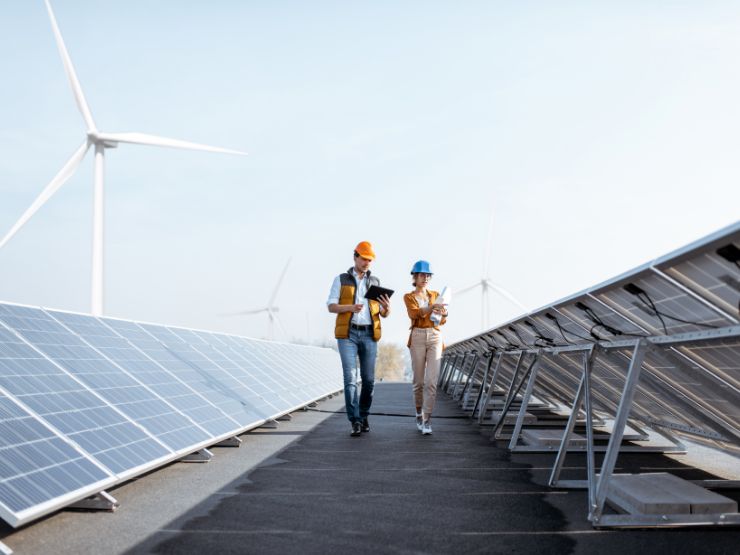 How Private 5G is rewriting the communication and connectivity playbook
5G is the fifth generation of cellular wireless technology and the new standard for mobile communications. It offers lower latency, higher data transfer speed, higher reliability, and more capacity to carry a larger number of connections.
With Private 5G, the spectrum – and the network and data running on it – are firmly under the control of a single enterprise and can be restricted to a certain location, such as a large, multi-office campus or manufacturing facility.
Private 5G enables organizations to set up networks that provide internet services to the local community. Schools, libraries and even businesses can opt to offer internet services to their neighborhoods, creating a new ecosystem of mobile networks that run at speeds far faster than ever before.
Private 5G is establishing itself as a powerful enabler for any organization looking to ramp up its digital transformation efforts. Specific areas it helps with include:
Transporting growing volumes of data
Delivering ultra-reliable low-latency communications for mission-critical applications
Managing (literally billions) of devices and sensors and allowing them to communicate more efficiently and freely
Prioritizing network traffic
Offering a step-up from Wi-Fi in terms of download speeds (5G typically offers upwards of 600 Mbps and higher than 10 Gbps in perfect conditions, compared to Wi-Fi's 80ish Mbps)
Now, let's eplore how Private 5G is adding a new dimension of value – in the realm of sustainability.
How exactly does Private 5G play into the sustainability agenda?
Private 5G presents new opportunities for governments to create, deliver and monitor a new breed of services to their citizens. This ranges from connecting their services, monitoring traffic and installing smart streetlights to auto-sensing when garbage cans in city parks need to be emptied.
It also opens new doors for city leaders and industry heads to facilitate hybrid working arrangements, reducing the need for people to travel and, as a result, the levels of carbon emissions generated by their employees as part of their regular commute.
In the same vein, the higher network speeds Private 5G offers supports telehealth (where patients obtain medical care from their homes), reducing the need for patients to travel for in-person visits to doctors or healthcare facilities.
The high-speed, reliable and inherently secure networks that Private 5G enables will also help factories and businesses monitor their air quality and energy usage. We recently worked with ASHRAE to achieve just this with impressive outcomes. We're also working with the World Economic Forum to outline our vision on how Private 5G and the Internet of Things can help facilitate our net-zero ambition.
Meanwhile, players in the manufacturing sector will be able to modernize their approaches to equipment monitoring. More sophisticated sensors and data monitoring techniques will guide them to make better decisions around their environmental impact.
In the energy sector, a study has predicted that 5G connectivity could save more than 250 million tons of CO2 emissions globally by 2030 by accelerating the move to wind and solar energy.
These are just a few examples to illustrate the potential positive sustainability impact of Private 5G.
As we enter this new era in which the pandemic has disrupted countries, industries and communities, global enterprises and city leaders are eager to harness emerging technologies that bring outcomes, such as resilience, sustainability and future prosperity.
Final thoughts
What happens in cities will influence the well-being of much of humanity and our collective prospects for sustainable development.
If you're interested in finding out more about how you can accelerate your sustainability journey with Private 5G, visit us here.
i] GeSI - Digital with a purpose. Delivering a smarter 2030 Report
[ii] Mobile UK, Connectivity and climate change: how 5G will help lay the path to net zero, Published on computerweekly.com