Why should car manufacturers gain full control over vehicle connectivity?
From electric vehicles to autonomous driving and 5G enabled smart mobility applications, the automotive industry is undergoing impressive transformation. With the value chain becoming increasingly data driven as modern cars embark on more connected services, original equipment manufacturers (OEMs) must reinvent themselves and become service providers rather than traditional manufacturers.
The question of who controls the car connectivity, its associated services and the underlying value, becomes a burning issue for the automotive ecosystem.
As new mobility models emerge, the connected experience will eventually become the focal differentiating factor. Today, manufacturers are squeezed between the GAFAM (the five U.S. tech stocks: Google (Alphabet), Apple, Facebook (Meta), Amazon, and Microsoft), providing digital services; and mobile carriers (MNOs) delivering connectivity. Both groups seek to control the connectivity on OEMs' behalf to extract maximum revenues by managing the end-user relationships.
Therefore, to maintain their independence and profitability, car manufacturers are left with no other option than to become connectivity providers in their own right.
Connectivity is value as the network becomes an essential part of the service.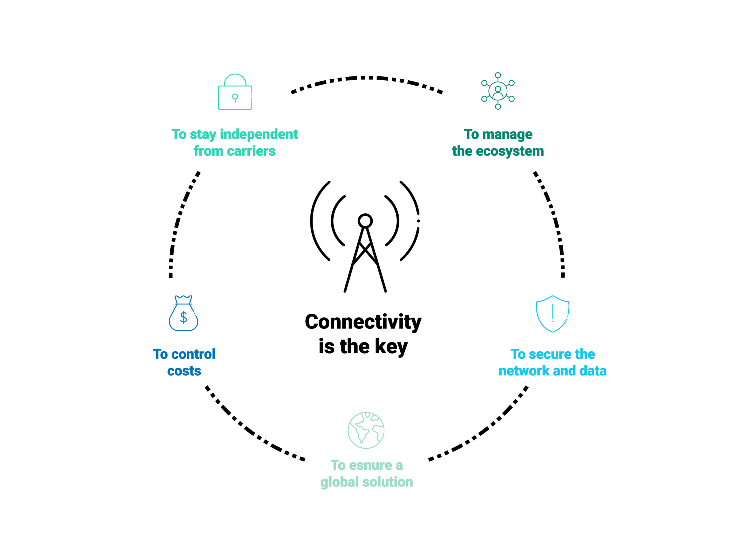 Car connectivity value chain
Drivers, nowadays, expect embedded applications and services, as on their smartphones. They search for mobility solutions that offer a unique user experience apart from the vehicle itself. Few key features that define vehicle innovation, today, include:
telematics services (predictive maintenance, software update over-the-air, analytics)
end-user services (infotainment, eCall, navigation)
third-party services (assistance, insurance, EV charging stations)
private LTE-5G industrial applications (assembly line testing, road tests)
autonomous driving and safety applications
To enable these features across geographies, a robust, secure, and reliable cellular connection is essential on public and private networks.
With the launch of 5G, the amount of data generated from vehicles is expected to skyrocket. From a few MBs/day up to ~100GB/day, this exponential growth will take connectivity costs to unprecedented heights for manufacturers. As mobile carriers control the network and airtime prices, OEMs need to find ways to reinforce their negotiation power to challenge these costs and secure competitive prices, worldwide.
Global connectivity is becoming an increasingly critical and strategic asset across the automotive value chain. Whoever controls connectivity will ultimately own the relationship with the final customers. Thus, letting the tech companies and mobile carriers invade their native ecosystem, manufacturers are risking their potential monetizable data to be controlled by third parties.
Pressure gets stronger from both tech and telecom players to capture a larger share of the value
As they diversified into financial services, car manufacturers now must achieve independence from mobile carriers and control their vehicle's connectivity to unlock revenue streams, maintain end-to-end customer relationships and stop most of this added value from going to GAFAM and/or mobile operators.
Gradually, car companies will be the next telcos
Becoming service providers or virtual network operators is necessary for manufacturers but the process is complex, requiring them to build and manage their own telecom infrastructures and processes. Before setting foot, OEMs can partner with an independent enabler (like NTT) and rely on its carrier-agnostic infrastructure as they have built their own connectivity platform over time.
Besides gaining agility and flexibility, implementing their core network infrastructure will bring significant benefits to car companies including:
New services and business models: unlocking B2B and B2C revenues from connected services and end-user relationship management during the entire vehicle's lifecycle.
Global footprint and scalability: relying on a single core network avoids complex integrations with multiple operators globally, ensuring worldwide consistency for coverage and customer experience.
Independence from mobile operators: OEMs could easily switch between networks without cost, maximizing their bargaining power to secure competitive airtime prices, worldwide, by leveraging the enabler's network access and/or their own direct carrier agreements.
Freedom to innovate and faster time to market with flexible configuration of advanced and fully tailored services.
End-to-end security: Interconnections between a vehicle's immediate environment and the automotive operating systems increase vulnerability to cyber-threats. Delegating connectivity management to third parties could prove risky for OEMs. As safety implications of autonomous vehicles will significantly increase manufacturer's accountability during unforeseen events, only by owning and managing their network infrastructure can OEMs ensure end-to-end secure connectivity from the platform to vehicle.
Connectivity management, in the vehicle and beyond
Evolving to mobility service providers, OEMs can enable vehicles and all its associated processes, such as smart manufacturing, road testing, on-site updates, connected dealerships and charging stations, with their connectivity platform. The ability to seamlessly switch across public and private networks will be a key competitive advantage through operational effectiveness and cost optimization.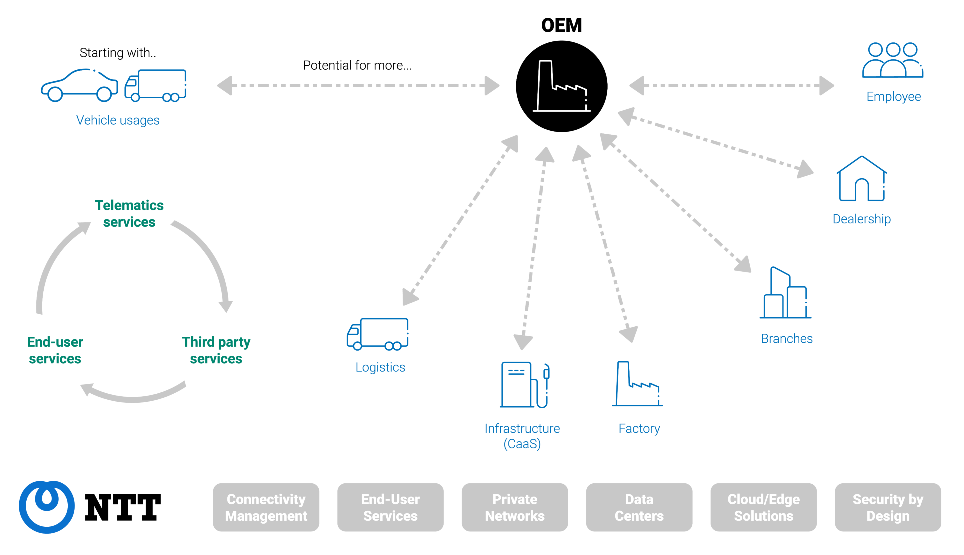 The opportunity of managing connectivity goes far beyond the car itself
Taking strategic advantage of controlling their vehicles' connectivity, manufacturers can unleash innovation, maximize the potential of connected services and benefit from the value-added income. Becoming connectivity service providers is the new paradigm for the automotive industry whose proven approach is successful in the deployment of connectivity solutions, worldwide.
To learn more about how car OEMs can make that leap forward, check out our IoT connectivity solutions.
About the author
Bertrand Salomon is Deputy CEO of NTT's global MVNO Transatel.
Bertrand has an extensive experience in developing IoV (Internet of Vehicles) connectivity platforms and solutions for the automotive industry.