Using technology to help build better cities and communities
Today, more than ever, the private sector has a significant role to play in finding sustainable solutions to the social, economic and environmental challenges of our times.
Over the last 15 years, I've witnessed organizations' values evolve as corporate brands shift towards a greater sense of purpose. Add to this the sense of urgency for change that we've seen unfold across the world and we start to see another major shift: the redefinition of what it means to be a purpose-led brand. The world needs brands to be brave and to inspire their organizations to place sustainable development at the heart of corporate strategy. And it feels now more urgent than ever, as we learn to navigate a global pandemic.
NTT Ltd. recently took a step to emphasize the important role the private sector must play in achieving the United Nation's Sustainable Development Goals (SDG) by 2030. We became a 'Business Avenger' to join forces with some of the world's biggest companies to cement our commitment to achieving the SDG targets. We join 16 other global giants with a purpose to contribute towards the success of the Global Goals – including Coca Cola, Google, Diageo, Microsoft and Nike.
Collective action to transform our world
The UN Sustainable Development Goals, also known as Global Goals, launched in 2015 as a universal call to action to end poverty, protect the planet and ensure that all people enjoy peace and prosperity by 2030. Now in the Decade of Delivery, we stand shoulder to shoulder with world-leading businesses, politicians, citizens and members of society to inspire action to accelerate progress before the Global Day of Action in September this year.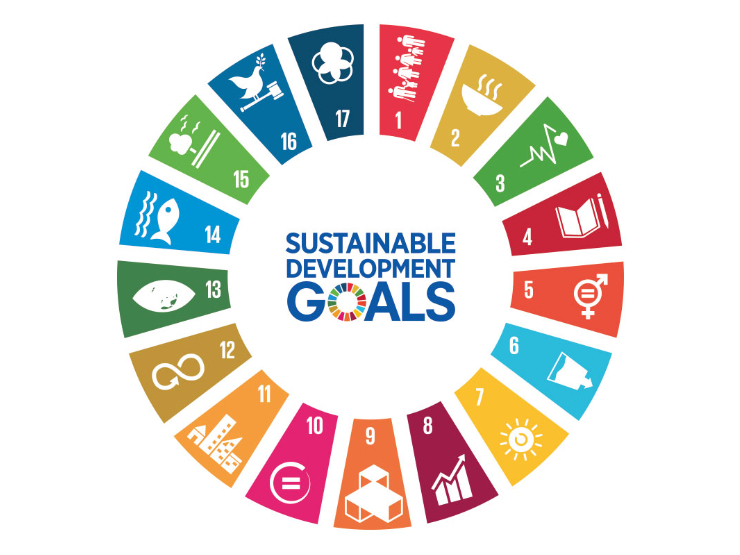 We must work harder to achieve our sustainability mission
According to the 2019 United Nations Global Compact Accenture Strategy CEO Study on Sustainability, 71% of CEOs believe that — with increased commitment and action — business can play a critical role in contributing to the Global Goals.
Project Everyone, a Global Goals-focused group, recognized that as a worldwide community, with only ten years to go, we're off track to achieve what we need to by 2030. My research into the topic of sustainable development in the private sector pointed out the stark realities and competing priorities many large organisations face in implementing the change needed.
According to the same 2019 United Nations Sustainability Study, 43% of the world's largest companies cite competing strategic priorities as a top barrier in implementing sustainability. And 55% say pressure to operate with extreme cost-consciousness against investing in longer-term strategic objectives is a key trade-off they're facing. Statistics that will surely worsen when we consider the impact of COVID-19 on the global economic landscape.
Collectively, great strides are being made, but so much more needs to be done. As a group, the Business Avengers focus on campaigning for major global policy breakthroughs, sparking local and regional activism, and creating cultural moments that break into the mainstream and re-energize action to fight poverty, inequality and the climate crisis. If we want to sustain our economic system for future generations we need the rewrite the definition of capitalism, something that enjoyed great focus at this year's World Economic Forum.
How technology can help
NTT Ltd. has chosen to be the Avenger for 'Sustainable Cities and Communities' goal, with technology as key to helping us get there. So far, we've worked with our clients to create more connected cities. However right now, our focus is finding ways technology can help to minimize the impact of disruption on the world's cities and communities during these unprecedented times:
The cloud helps loved ones stay connected – Together with an academic hospital group in the UK and Ireland, we're helping quarantined COVID-19 patients, their families and their doctors stay connected through secure, cloud-based videoconferencing.
Collaboration tools change the future for African students – Together with a group of high schools in South Africa, we're enabling pupils to keep up with their academic work and prepare for tertiary education during lockdown, using Microsoft collaboration tools.
Digital solidarity can keep us productive during a crisis – Together with a digital solidarity project in Europe, we're helping citizens, professionals and companies to stay active and productive by making a videoconferencing platform available free of charge.
Client communications can thrive on the web – Together with a US financial services organization, we're helping to maintain communication between investment portfolio managers and their clients and prospects through regular webcasts.
Wearables will globalize hands-on training – Together with a global food and beverage giant, we're facilitating mentoring and in-person training of factory employees in Asia-Pacific by European company experts through wearable technology.
Finding ways technology can help to minimize the impact of disruption on cities and communities during these extraordinary times
Everyone has a role to play
From the COVID-19 pandemic to the climate crisis to the well-being of all life on earth, we believe that technology holds the key to solving some of the world's greatest problems. In many ways NTT Ltd. is at the beginning of its sustainable development journey, having unified 31 organizations under a single brand only nine months ago. A journey that I am passionate about and want to bring to maturity very quickly as we do our part to achieve the Global Goals.
We're inviting investigation, questions, curiosity and discussion on how we can achieve our goals. The world needs fresh ideas, every voice should be heard: it's better, fairer, and it's more interesting. Because, its only when we come together that we're able to do great things.
After all, now more than ever, it's evident that we're all in this together.