By now, you probably know all about Operator Connect
Or at least, the bare bones.
You can
catch up here with our Operator Connect overview
, but as a quick summary, here's the headline… Operator Connect is Microsoft's new way to let you bring PSTN calling and add new telephony users in Microsoft Teams. We're one of Microsoft's launch partners and I'm going to look at why you should choose NTT for Operator Connect.
Transform your user experience and functionality
The fact is, only a small percentage of Teams users currently have telephony enabled. Operator Connect offers the potential to transform the user experience and functionality. What's particularly great about this is that you can do it from right within the Microsoft Teams Administration Portal.
Not surprisingly, the news earlier this year that Operator Connect was coming was greeted with much excitement and anticipation. Since it entered Public Preview in late July, we've seen a great deal of interest. Whether existing clients or new, many wish to try it out and be ready to press ahead when it reaches General Availability.
Much of the excitement is because Operator Connect offers a better alternative to the pre-existing ways of enabling voice in Teams. You can read about Operator Connect vs Direct Routing and Microsoft's own Calling Plans here. In brief however: the former can be a lengthy, time-consuming option, the latter are perhaps too limited for more demanding needs.
Operator Connect is certainly a major addition to the capability within Teams. It's putting cloud calling right at the heart of Microsoft Teams. It provides administrators powerful tools to manage their users and make changes quickly and easily.
We are delighted to be one of Microsoft's launch partners, one of just 12 such operators. But which should you partner with? If you're thinking of launching Operator Connect within your organization, here are three reasons to choose NTT for Operator Connect.
Make huge savings thanks to our own Tier 1 network
If money talks, then listen up, because Operator Connect is calling out loud and clear. You can make huge savings across your organization. By consolidating your telephony and managing it all within Microsoft Teams, you'll be able to simplify your contractual state, consolidate your providers, and control your costs.
Is this something uniquely available from NTT? No. You should expect to do this with any provider. Yet, with our additional features (included as standard) and extremely competitive costs (as a result of us owning our own Tier 1 network) we're confident you'll get mouth-watering rates from us and unbeatable reliability. All in all, this means huge savings for your bottom line and the best possible experience for your users.
Benefit from extensive global reach – and growing all the time
Our standard Operator Connect coverage includes– at the time of writing this – 40 countries. Certainly, our coverage is evolving and expanding all the time. What's more our experience and global voice footprint can deliver all your voice needs by customizing solutions specific to your business requirements. Again, remember that we deliver all of this to you via our own network. This includes a 99.99% guaranteed service availability, fraud detection and prevention.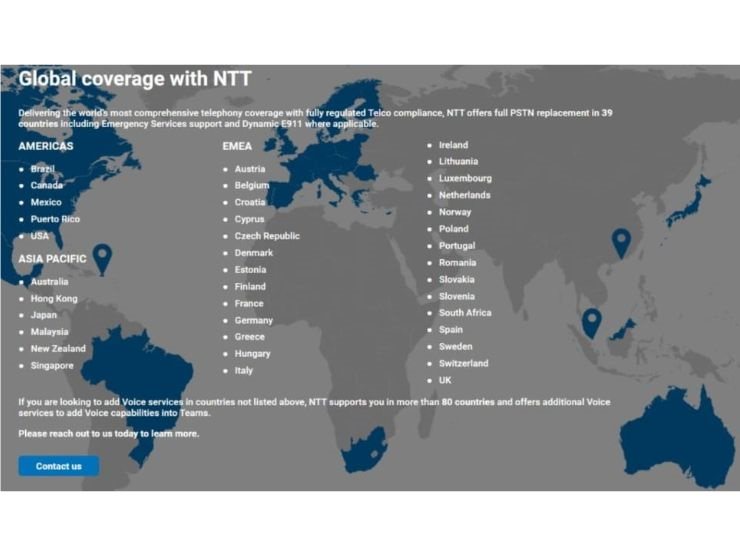 Unlike Operator Connect, not all voice solutions are available to self-manage from the Administration Portal
Choose as much – or as little – support as you need
As you consider which partner to work with, you'll likely consider the journey ahead. What you'll need now and down the line. With us, you can get exactly the support you'll need, when you need it, as you need it. On one hand, we offer a light-touch service, included within your subscription costs. This lets you completely self-operate and just ask for assistance when, needed. On the other hand, we also offer a fully managed service. This will support you and give you full peace of mind over every aspect of your cloud telephony. Not only do we know our own network inside out, we have more than 300 certified Microsoft experts to support you along the way. In short, you can get as little or as much help as you need.
Our understanding of our clients and their essential requirements mean that – as standard – you'll also benefit from a range of business-critical additions to our Operator Connect service. These include dynamic E911 and call queuing as well as other additional support services.
Choose NTT for Operator Connect
Do look a little closer at not just Operator Connect, but the partner you choose to work with. With NTT you'll soon discover not just the savings, nor the reach, but the reliability and support you need. We also offer a wider range of services in complementary areas of modern workplace solutions, helping our clients achieve their digital transformation.
Ready to transform your telephony and how your organization uses Microsoft Teams? Choose NTT for Operator Connect and ahead of General Availability, use the following link to request a free Operator Connect trial.

Related reading:
Telephony in Microsoft Teams: Operator Connect vs. Direct Routing
Operator Connect for Microsoft Teams: now available in public preview